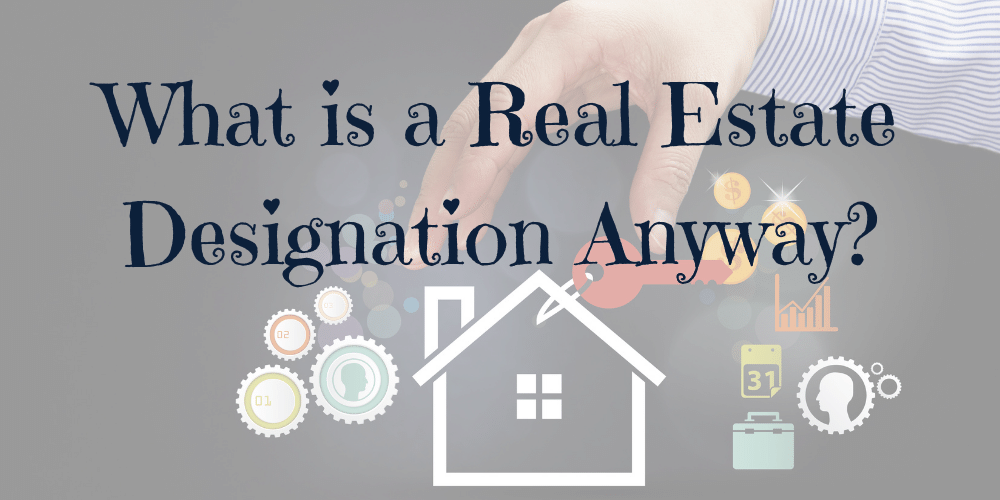 If you are like most people, you have no idea what those little logos or letters, next to a REALTOR's® name mean, or why they even matter. Allow me a few minutes to explain what my designations mean, why they are so important, and most importantly how they help you in the home buying or selling process.
Real quick, let's talk about how a REALTOR® goes about getting a designation or certification. Designations and certifications require either experience or education classes, and sometimes both. I didn't get my designation & certifications for me, I got them for my clients. My focus in life is to help others, bring people joy, and assist everybody to the best of my ability including with buying or selling their home. To do this, I am increasing my knowledge of different aspects of real estate by getting designations & certifications.

Let's discuss my designation & certifications. What are all these letters behind my name anyway? I have my GRI (Graduate REALTOR® Institute), RENE (Real Estate Negotiation Expert Certification), and PSA (Pricing Strategy Advisor). Let's dig into them one by one.
GRI- Graduate REALTOR® Institute Designation
This course was a 90-hour course that is nationally recognized and covers multiple important items vital to real estate. I gained comprehensive knowledge on the most essential topics, including market knowledge, business skills, systems and tools, and risk management—substantially beyond what's covered in the pre-licensing courses. Of all the residential real estate designations offered through the National Association of REALTORS®, the Graduate, REALTOR® Institute (GRI) is the most comprehensive, providing a broader scope and depth of training.

With "Graduate, REALTOR® Institute" by my name, it helps me stand out in my market as an agent who takes advanced real estate education seriously. I am one of the 7% of REALTORS® in Texas with this designation.
RENE- Real Estate Negotiation Expert Certification
Being a REALTOR® requires a lot of negotiations. Negotiations with buyers, sellers, the other party, the inspectors, the lenders, and more! During this class I learned all types of negotiation formats and methods so that we can play the game to win for you! A full spectrum of tips, tools, techniques, and advantages were taught so that I can provide effective results in any situation.

I learned how to recognize what the other party is using as a negotiation tactic, how to adjust my communication style to get the results you need, and how to effectively negotiate no matter if face-to-face, on the phone, or through e-mail.

PSA- Pricing Strategy Advisor
With the PSA certification, I enhanced my skills in pricing properties, creating CMAs (comparable market analysis), working with appraisers, and guiding clients through the anxieties of misperceptions they often have about home values.

Pricing your home to sell is the most important aspect of selling your home. With this certification I have a greater ability to help you price your home right, based on multiple strategies. There is more than just looking at other homes that goes into valuing and pricing your home. There is a pricing Code of Ethics, a specific way to find and analyze comparables, a way to adjust prices depending on supply and demand, and also a way to battle specific challenges and adjusting pricing accordingly. I learned all of these things and more while gaining this certification.

By earning the GRI designation and RENE certification, and PSA certification, I have been focusing on building my business to assist you and any and all future clients. I want to be the best REALTOR® I can to help you with your real estate needs, and every additional credential I earn puts me in a better position to reach my goal in assisting you as best I can.
Not every agent is created equal, and it is important to find one with YOUR needs and goals in mind. I am equipped and ready to help you, your friends, and your family find or sell a home no matter the location! Since Big Hearted Realty Group is a Keller Williams Realty affiliate, I am able to assist anybody buying or selling a home, anywhere in the world! For example, I recently helped my aunt and uncle sell their home in Houston, and it was sold in TWO days with multiple offers! I can help you no matter where you are!!
If you aren't sure what you are looking for, or when you will be ready, contact me and we can sit down together and make some real estate goals for you and your family. I'd love to you help you in anyway. Please don't hesitate to reach out and say hi! I love hearing from all of you and receiving updates on how you are doing!
Many Blessings,
Deanna Kenisell, REALTOR®, GRI, RENE, PSA